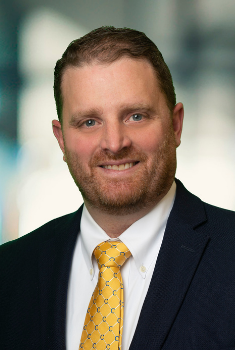 Nick is a Director with Deming, Malone, Livesay & Ostroff (DMLO). He is a member of the Wealth Advisory Group and the Forensic Accounting, Litigation Support & Business Valuation niche.
Nick has over fifteen years of experience practicing public accounting in Louisville and Lexington. His primary focus is tax with special interest in individual, business, fiduciary, estate, and gift tax. Nick's experience includes code compliance, federal/state estate tax returns, fiduciary income tax returns, gift tax returns, and business valuations.
Education and Certifications
Nick earned a Bachelor of Science degree in Economics from Centre College, and a Masters of Science in Exercise and Sports Science from the University of Florida. He is licensed to practice as a CPA. In addition, he earned the Accredited in Business Valuation (ABV) credential, granted through the American Institute of Certified Public Accountants exclusively to CPAs who demonstrate considerable expertise in business valuations, through their knowledge, skills, and experience. Approximately 1% of the 377,000 CPAs represented by the AICPA in the U.S. have obtained this specialized credentials. Nick is a graduate of Focus Louisville and Ignite Louisville.
Professional Memberships and Activities
Professional memberships include the American Institute of Certified Public Accountants, the Kentucky Society of Certified Public Accountants (KyCPA), and the Estate Planning Council of Metro Louisville. Nick currently serves on the Executive Committee of the Estate Planning Council of Metro Louisville and has served as Secretary/Treasurer and President. He previously served as the Chair of the KyCPA Small Business Committee. He is also a member of Hunting Creek Country Club.