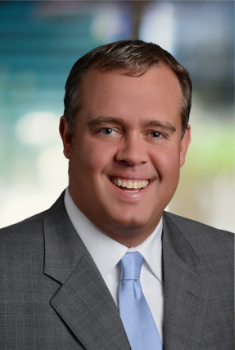 Joe is a Manager with Deming, Malone, Livesay & Ostroff (DMLO). He is a member of the Manufacturing and Transportation Niches.
Joe has over 15 years of experience practicing public accounting in Louisville/Southern Indiana, following a successful career in the wireless telephone industry where he assisted startup companies in operational management in advance of initial public offerings. Joe has experience in both tax and attest service including not-for-profit entities. He specializes in complex multi-state tax filings for all entity types, with a focus on manufacturing /distribution and transportation industries. Additional experience and areas of expertise include: International to US GAAP financial statement conversion, rental real estate tax implications, cost segregation studies, and closely-held service companies.
Education and Certifications
Joe earned a Bachelor of Science in Business Administration and Accounting from the University of Louisville (Magna Cum Laude). He is licensed to practice as a CPA and earned the Chartered Global Management Accountant (CGMA) designation which distinguishes accounting professionals who have advanced proficiency in finance, operations, strategy, and management.
Professional Memberships and Activities
Professional memberships include the American Institute of Certified Public Accountants and the Kentucky Society of Certified Public Accountants.
Joe volunteers his time and effort to Floyds Knobs Community Club Baseball and Softball, Floyds Knobs Mini-League Basketball, St. Mary of the Knobs Athletics, Highlander Youth Football, HYR Baseball, Riverside Aquatics Club, Flyers Baseball Club, Rawlings Tigers Baseball Club, Girl Scouts of Kentuckiana, Cub Scouts – Troop 4067, and Boy Scouts – Troop 4617. He is an active member of St. Mary of the Knobs Catholic Church.