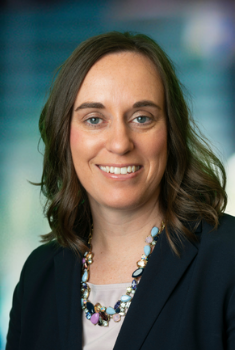 Sarah is a Director with Deming, Malone, Livesay & Ostroff (DMLO). She is a member of the Not-for-Profit, Employee Benefit Plan, Construction/Manufacturing, Long-Term Care, and Forensic Accounting Niches. She serves on the firm's Recruiting, Accounting & Auditing, and Marketing committees.
Sarah has fourteen years of experience practicing public accounting in Louisville. She specializes in providing assurance services to all types of clients, as well as Medicaid and Medicare cost report assistance for the long-term care industry. She particularly enjoys assisting clients with questions that may arise during the course of business.
Education and Certifications
Sarah earned a Bachelor of Arts degree in Accounting from Bellarmine University, and is licensed to practice as a CPA. In addition, she is a Certified Fraud Examiner, a credential awarded by the Association of Certified Fraud Examiners (ACFE) exclusively to those who have met the ACFE's character, experience and education requirements, demonstrating knowledge in four areas critical to the fight against fraud: Fraudulent Financial Transactions, Fraud Prevention and Deterrence, Legal Elements of Fraud and Fraud Investigation.
Professional Memberships and Activities
Professional memberships include the American Institute of Certified Public Accountants, the Kentucky Society of Certified Public Accountants, the Association of Certified Fraud Examiners, and the Kentucky Chapter of the ACFE.
Sarah recently served on the Board of Directors and Finance Committee for Community Coordinated Child Care (4-C).