#CPALife can be highly rewarding but also present its share of challenging moments. Sometimes it's the little things that make a difference in your day. In our industry, that often involves food or refreshments! In addition to the treats delivered to our office during busy season from vendors, clients and friends of the firm, and the healthy snacks provided by our Health & Wellness Committee, we have a wonderful administrative staff who go the extra mile to bring in ice cream for Float Fridays, keep the popcorn machine poppin' on Wednesday afternoons, stock the break room with free soft drinks, coffee and iced tea, celebrate birthdays each month with cake, and coordinate meals on Saturdays during tax season.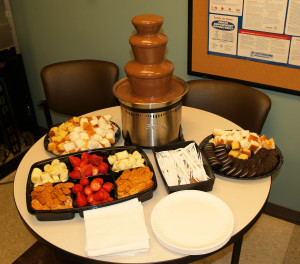 You might even get lucky and be in the office on the day we set up the chocolate fountain with yummy treats for dipping! We also have a very special celebration each October, inviting families to our office for a costume party & treats. Check out this photo gallery to see just how cute our #DMLOkids (grown and small) are!
While we can't create a completely stress-free environment, we have a special Social Committee that works hard each year to come up with fun and creative ways to generate smiles and offer temporary relief in a highly deadline-oriented field.
See more glimpses 'Inside the Cube' on Instagram and Twitter.