We took a little break on Monday to experience the partial solar eclipse here at the Flashcube building, with Moon Pies, Capri Suns, and ice cream. Share the moments with us in these clips:
Several of our staff chose to travel for the full totality experience.
DMLO Director Jeff McCaffrey set up in Hopkinsville with the Louisville Astronomical Society, and WAVE 3 Asst. News Director Carolyn Williams tweeted this photo (top left) of him at Camp Roy C. Manchester, Pfeffer Scout Reservation, chatting with some Boy Scouts. Jeff captured these shots of the eclipse and the traffic he encountered on the way back home.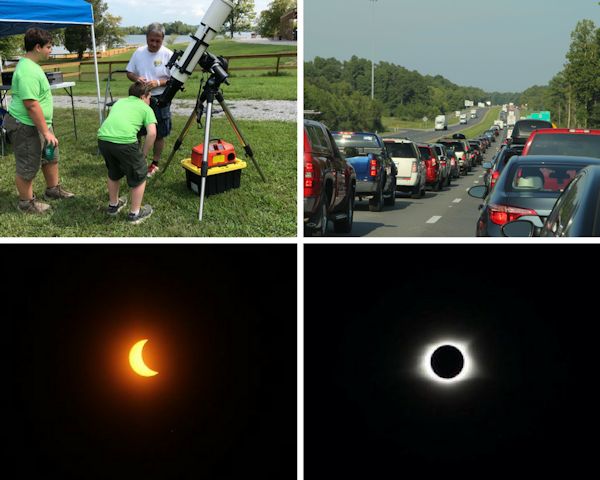 General Services accountants Patrick Mouser and Dianne Morris (with husband Joe) set up camp in a field in Hopkinsville. Dianne shared her experience:
As we were seeing the last sliver of the sun before totality, a man from Wisconsin walked by and said 'some people are seeing 97% of an eclipse and think it is awesome – wait for the 100%.' He was right – the difference between 97% of a solar eclipse and totality is not 3%. It is a 1000% difference. The corona was a beautiful pure white light, and you are surrounded by darkness. I will never forget the PURE white light. Then the sun pops out with the diamond effect. It was electrifying!